Universidad San Francisco de Quito (USFQ) is a private liberal arts university located in Quito, Ecuador. In addition to the main campus located in Cumbaya/ Quito, USFQ has a satellite campus and research station in the Galápagos Islands and a biological field station "Tiputini Biodiversity Station" in the Amazon basin. USFQ offers international students the opportunity to study in Ecuador for a semester, year, or summer.  
Facts about USFQ:
Founded in 1988, it is the first private university of Ecuador 
Ranked #1 University in Ecuador and #51 in Latin America (2023 QS University Rankings) 
Currently over 8,500 students enrolled 
1000 international students attend USFQ each year 
Hosts 513 full-time professors, 257 of which hold a PhD, 28 half-time and 353 part-time professors.
Over 150 full-time international faculty members represent 32 countries and 5 continents (2023 QS University Rankings)
Participates in more than 100 Bilateral Exchange Partnerships 
Science stations include the "Galápagos Science Center" in the Galapagos Islands and the "Tiputini Biodiversity Station" in the Amazon Rainforest 
For more information please contact: opi@usfq.edu.ec
---
Biodiversity stations
Tiputini Biodiversity Station
The Tiputini Biodiversity Station (TBS) is a research facility established in Amazonian Ecuador in 1994 by Universidad San Francisco de Quito in collaboration with Boston University. We serve as steward of 744 hectares (about 1800 acres) of primary lowland rainforest approximately 300km (200 mi) ESE of Quito.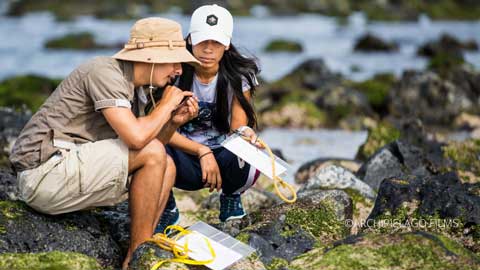 Galapagos Science Center
The Galapagos Science Center (GSC) was founded in 2011 between the University San Francisco of Quito, Ecuador and the University of North Carolina Chapel Hill, USA as a hub to coordinate scientific research projects between local, national and international scientists to benefit the Galapagos and the world of science. We are the first and only academic research center in the archipelago.