The Office of Innovation and Sustainability is in charge of promoting joint work between the academy, public and private companies, and the internal and external community in terms of creating shared value in matters of innovation and sustainability. The Office of Innovation and Sustainability supports various programs and projects ranging from courses on sustainability to research and development projects on sustainable strategies, such as alternative energy, among others.
The Office of Innovation and Sustainability also performs consultancies through the Center for Technology Transfer and Development (CTT-USFQ), and has a team of experts with fourth-level degrees in sustainability and related areas. We have specialists in water quality and treatment, domestic and industrial effluent treatment, domestic and hazardous waste management, air quality, environmental management, environmental economics, environmental policy, climate change, biodiversity, among others.
About Us
The Office of Innovation and Sustainability was created in early 2014 in order to develop and promote sustainable strategies that allow the growth and development of the USFQ to be in harmony with society, the environment, and the economy. Currently, USFQ is characterized as a sustainable laboratory that fosters responsible behavior among young adults, who in the future will be the leaders of our communities.
The Office of Innovation and Sustainability seeks to create shared value, benefiting all the interest groups that interact with USFQ. Each interest group, such as students, teachers, workers and the external community, have their own concept of value. In general terms, the Office of Innovation and Sustainability seeks to improve the quality of life for each of these groups, focusing on their own needs and prioritizing those that cause the greatest impact.
In late 2012, USFQ began measuring the carbon footprint of the Cumbayá campus along with other indicators, both social and economic, to generate the first sustainability report. Since then, the Department of Environmental Engineering, the College of Administration, and various collaborators have been outlining strategies that seek to generate more efficient operations, thus making us a benchmark in sustainability issues in both Ecuador and Latin America.
Additionally, USFQ participated in the international pilot for Sustainability Tracking, Assessment & Rating System (STARS) of the Association for the Advancement of Sustainability in Higher Education (AASHE). Currently, the AASHE methodology is only applicable in universities in the United States and Canada, however, due to the growing interest of international higher education institutions in this subject, AASHE implemented this pilot program with 50 institutions around the world. USFQ is the first South American university that is participating in the program and, in December 2013, we were recognized by AASHE with the status of "STARS REPORTER". Currently we are part of the AASHE International Committee that seeks to expand this certification worldwide.
Mission
The mission of the Office of Innovation and Sustainability is to create shared value for both the USFQ and the external community, including all interested groups.
Vision
he vision of the Office of Innovation and Sustainability is to position the USFQ as a model university on issues of innovation and sustainability both in Ecuador and in Latin America.
Projects
What programs, projects and processes does the Office of Innovation and Sustainability specifically develop?
USFQ Projects:

Efficiency in water use

Water is a finite resource and a comprehensive management of this resource is necessary to guarantee its availability in the future. The impact generated by urban activities affects the hydrological cycle and also reduces water quality. The San Francisco de Quito University in its mission to create a sustainable campus, has decided to carry out the study of "Efficiency in the use of water at USFQ" which is part of projects in the Environmental Engineering degree . This study constitutes a basis for the creation of policies and strategies that help to have a responsible and sustainable consumption of water. It uses the dynamic systems modeling approach which allows evaluating strategies and policies in different scenarios to reduce the risk of failure during its implementation. The study will be available from June 2017.

PanchoBus

As part of the carbon reduction strategies, the 2019 internal mobility survey was carried out, the results of which were used so that, in alliance with the CATENA Institute and the Office of Strategy and Institutional Development, 9 PanchoBus routes are enabled, expanding the transportation service for the university community, with a focus on greater efficiency, which means greater efficiency in the mobility of our community. Information about the routes can be found at: >> See the Pancho Bus routes

Energy efficiency

To develop strategies to reduce the consumption of electrical energy on the USFQ Cumbayá campus through the implementation of internal policies, technology, and generation of alternative energy.

E-waste recycling project (ferrous and non-ferrous electronics) for the USFQ community.

This project aims to be a pilot that starts with the USFQ community and its networks in order to find out how we can enhance work for the community in Quito. At the moment there are no collection programs and many of these products with heavy and precious metals end up in our city's landfills with other garbage. This causes direct poisoning to our plants and water sources and therefore to the food we eat. The project has a stage of expectation in social media, massive participation among academic schools through friendly competition and finally an educational campaign and final delivery of a scientific paper.

After a very diligent study a document was produced from the flow charts of what will happen to the waste. Once the campaign is over, we will be able to insert the data from the collection and we will draw conclusions about the campaign's achievements.

This project is in cooperation between the Office of Innovation and Sustainability, Claro, Paseo San Francisco and Fundación Prodes.

External Consulting:

Sustainability reports

The sustainability report is a report that allows to quantify and understand the economic, environmental and social development of a company or organization. These reports transparently show the positive and negative impacts of the company or organization, and allow setting goals and outlining change strategies in order to reduce the impact of their activities.

Carbon footprint

The carbon footprint is an estimate either directly or indirectly of the greenhouse gas emissions that an activity or a product can produce. These emissions are usually measured in tons of CO2.

Life cycle analysis

The life cycle of a product includes all the emissions that can be generated from the raw material used for its manufacture to its final disposal when its useful life has ended. Emissions that occur during product use are not included in the life cycle.
Resources
What resources can the Office of Innovation and Sustainability offer for people to download, interact or collaborate?
Sustainability Report: A report for the Cumbayá campus on the environmental, social and financial management of USFQ.
Personal carbon footprint:  Each person can calculate what their own carbon footprint is.
COCIBA with the Municipality of Quito: Strategies to reduce the carbon footprint and benefit the environment.
AASHE: AASHE offers a guide for higher education institutions that allows reporting sustainability efforts in various categories in order to achieve more efficient operations and generate sustainable indexes..
Ride sharing: Platform for the university community to share the trajectories, thus reducing the number of people who use cars individually.
Community Innovation
Community Innovation

PISA
The Socio-Environmental Innovation Project (PISA) is a new course where Design Thinking methodology is taught to be applied in social innovation projects. The first version of PISA was developed in conjunction with d.school at Ecole des Ponts Paris in the communities of Pambamarca in Cangahua and El Progreso in San Cristóbal, Galapagos. An iterative user-centered design process was used to listen to the needs of constituents in new ways, create innovative solutions to meet these needs, and provide solutions with financial sustainability in mind. PISA is currently a finalist in the GUPES Green Gown Awards presented by the United Nations to community service projects.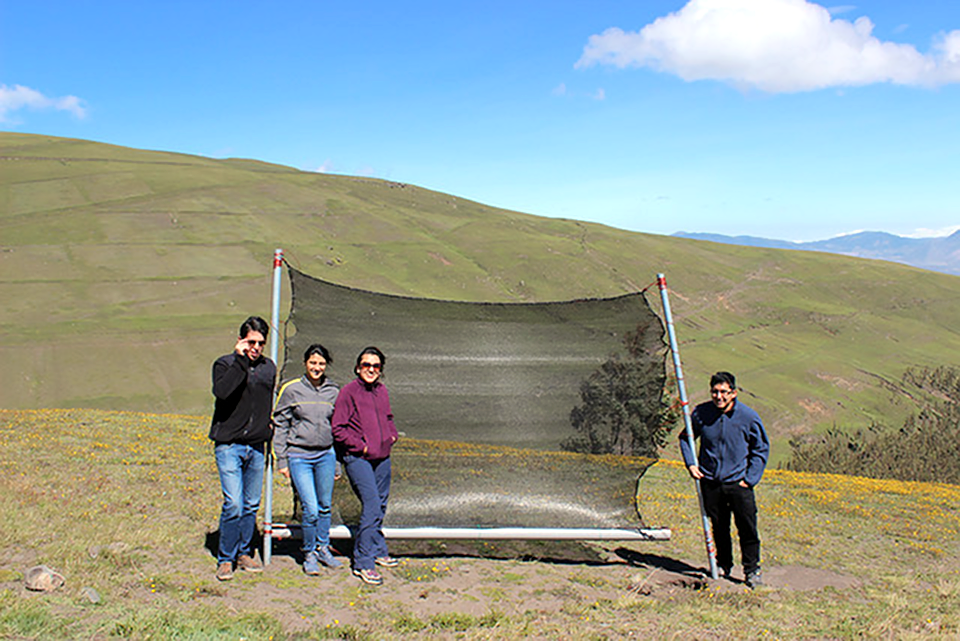 Fog catcher in Cangahua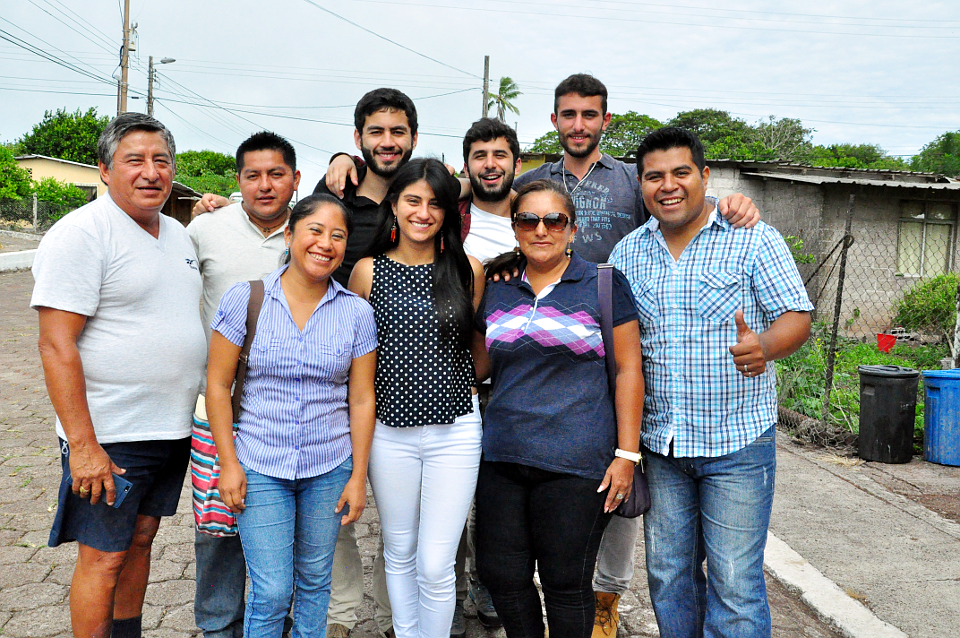 Water Filters in El Progreso
USFQ, Gupes Green Gown Awards Finalist
Ecological Bathrooms
Following the April 16th earthquake on the Ecuadorian coast, vulnerability in infrastructure and sanitation facilities in the affected provinces became evident. For this reason, USFQ programs in environmental and civil engineering with the support of the OIS have taken the project of building ecological toilets in the long term as a project that involves not only the decentralization of sanitation systems, but also as a opportunity to train the population in construction methodologies that seek the optimization of materials, costs, safety, and provide opportunities for micro-enterprise development in the communities. This project is financed through a crowdfund and 7 builders have already been trained during the construction of the first bathroom in the San Francisco del Cabo Educational Unit.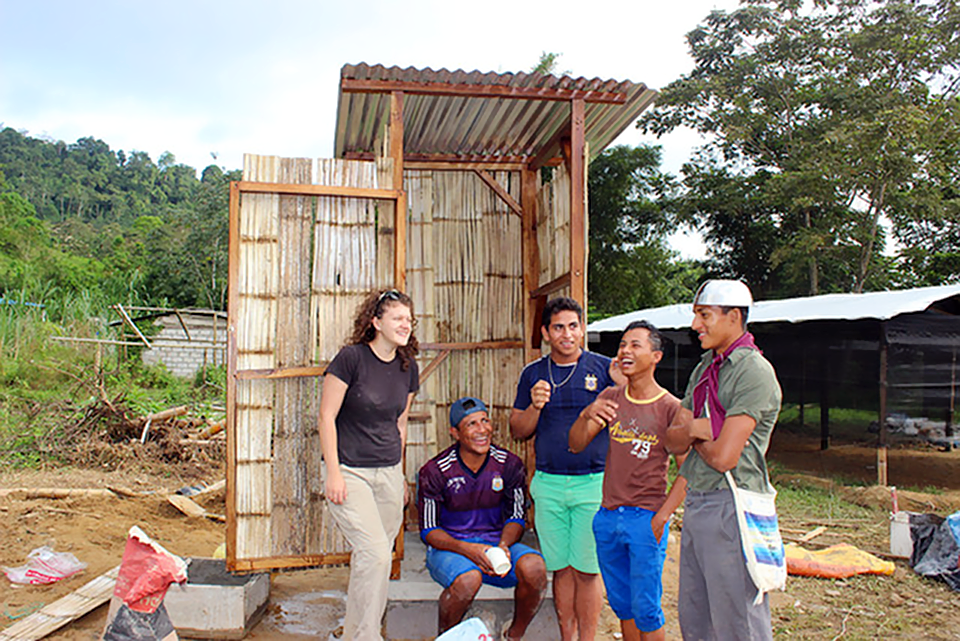 Ecological bathroom
We are thankful for the support of:
Steve Mecca and GSAP
Exchange student group: Gringos Give a Sh*7
Roberto Chávez
Carlos Marroquin
Cristina Fajardo
Mario Caicedo
Mauricio Velasquez
Joaquin Martinez
Oscar Martinez
Jario Torres
Students and Professors of the College of Sciences and Engineering and Engineers without Borders
Autoshare
USFQ now has the rideshare platform "Autocompartido", www.usfq.autocompartido.com.ec,  so that students, professors, and staff have a transportation alternative to come to campus. The platform is, for security, closed to our community and one may only register with email accounts @usfq.edu.ec o @estud.edu.ec.
The idea is to group those who get off in their own vehicle with those who do not have a vehicle, or want to free themselves from the problems of parking and traffic in our city. At the moment each car comes to Cumbayá with 1.18 people. Furthermore, the problem will only increase since the vehicle fleet will grow 12% annually adding 50,000 cars to the streets, which contributes to poor quality and air pollution. 1 But we can change this!
At USFQ we believe that we can come to the University in a more efficient way and this is sharing the car.
Among the incentives that exist to use the program you can take out auto insurance with Raúl Coka Barriga at a lower rate than what you find in the market.
Full risk coverage:
Natural Phenomena 
Partial or total loss due to shock or overturn
Partial theft or total theft
Mutiny, strike, and malicious damage
Falling objects
Additional coverage:
Civil liability
Accidental death or disability per occupant
Accident medical expenses per occupant
Airbag coverage
Accessory coverage
Vehicle Assistance Benefits
Coverage in Andean countries
Get your insurance quote here:
https://www.rcbaaps.com/index.php/servicios/seguros-individuales/rcb-vehiculos
We also have other benefits thanks to our Sponsors such as: gasoline cards (Banco de Guayaquil), tickets to the Cinema (Cinemark), food in the USFQ cafeteria, Music (Claro) among others.
To register, visit:  http://usfq.autocompartido.com.ec/registro.php. A confirmation email will automatically be sent to your USFQ account, which you must click on to start using the platform. You can also download the application on iOS or Android for your cell phone (We are currently in BETA tests if you have problems or comments, please email: appbeta@autocompartido.com.ec.
Share the USFQ ride share video and help us reach more people!
https://www.youtube.com/watch?v=-fsfOQIFkdw
Do you have comments about your experience? Send them to us at comentarios@autocompartido.com.ec or upload them on social media  with the hashtag #COMPARTEUSFQ

1 Project Footprint of Cities financed by the Development Bank of Latin America –CAF– and Climate and Development Alliance: Assessment of the Carbon Footprint and Water Footprint, 2013, Metropolitan District of Quito, Ecuador.
USFQ Innovation and Entrepreneurship Ecosystem
To make an outline of the resources available at the USFQ for innovation and entrepreneurship, we based ourselves on the Entrepreneur Ecosystem developed by the AEI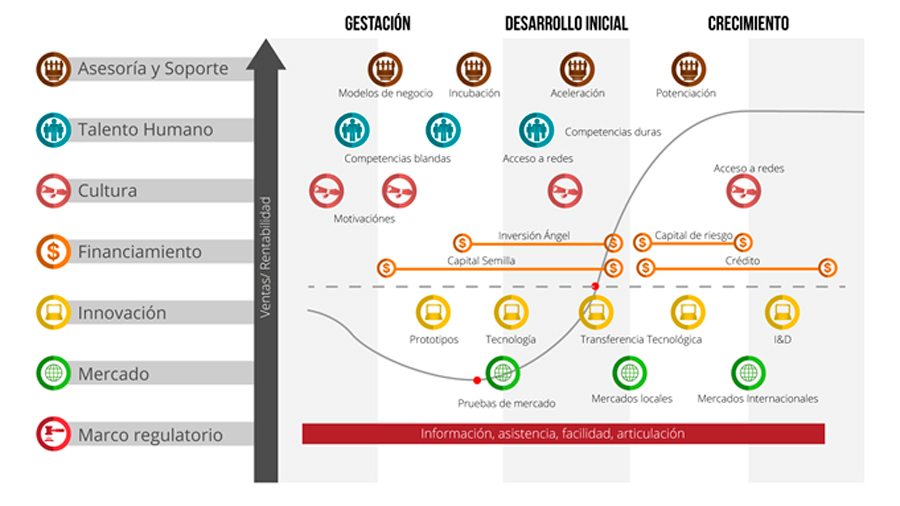 1. Business Model.
Receives support from entrepreneurship professors during office hours.
Director: Pablo Carrera pcarrera@usfq.edu.ec
List of entrepreneurship professors and associates:
2. Human Talent, Culture, Financing
Calendar of events for soft skills development, contests, startup financing, and more.
Calendar
3. Regulatory Framework
Patent Office
Director: Diego Benitez, dbenitez@usfq.edu.ec
General references from IEPI.
4. Incubation and acceleration
Agreements and discounts for USFQ. For any questions please contact the Development Office.
Coordinator: Michael Valdivieso
Buen Trip Hub:
30% Discount on Coworking space
20% discount on mentoring
Kruger Labs:
Opportunities to submit applications to go through the incubation process.
Contact Michael Valdivieso.
Working UP:
25% Discount on WorkingUp packages and memberships.
Internships.
ImpaQto:
10% Coworking Discount for students.
25% Coworking discount for alumni (up to 6 months after graduation).
10% Social Jump Discount for students and alumni.
ConQuito:
Training in Strengthening soft skills (25 places).
Space on Social Responsibility day for 2 groups of students.
5. Prototype Development, Research and Development
Cristina Muñoz, director of D.Lab and Melanie Valencia, Innovation and Sustainability Officer, can guide the process of research, idea development, and development of prototypes.
This is the list of laboratories available within USFQ.
Other Resources
STARS Certification
USFQ was accredited as the first sustainable campus in South America by STARS (Sustainability Tracking Assessment and Reporting System) with a Silver (Silver) rating. STARS of AASHEE (Association for the Advancement of Sustainability in Higer Education) has more than 800 participants in 30 countries and is the most recognized tool worldwide for publicly reporting information related to sustainability performance in higher education institutions. Additionally, various efforts have been made in generating alliances with various universities in South America to share experiences and manage a Regional Sustainable Campus Network.
https://reports.aashe.org/institutions/universidad-san-francisco-de-quito/report/2018-12-26/
USFQ was highlighted in the AASHE Sustainable Campus Index 2019 publication highlighting good practices in innovation in the academic curriculum area by the Socio-Environmental Innovation Project (PISA) class.
https://www.aashe.org/wp-content/uploads/2019/08/SCI-2019-Updated.pdf