Degree
Master in Nanoelectronics, Major in Embedded Systems and Integration
Degree
Master in Nanoelectronics, Major in Characterization, Modeling and Conception
Duration
Master's in Nanoelectronics, specializing in Embedded Systems and Integration
Master's in Nanoelectronics, specializing in Characterization, Modeling, and Conception
Teaching Mode
In-person classes.
1st year: USFQ - Ecuador
2nd year: INPT Toulousse - Frace/UNICAL - Italy
Schedule
Full time
Monday through Thursday, from 9:00 a.m. to 12:00 p.m.; in the afternoons there are training sessions as well as all-day on Fridays (independent work). The independent work includes hours with instructors in the laboratory, class preparation, homework, exercises with instructors, and projects according to the CES definition.
Approval
Approved September 2nd, 2015
Resolution RPC-SO-31- No.399-2015
Total Cost
$10,200
Enrolment Fee: $909
Tuition: $9,291
Application Examination Dates
Description
Nanotechnologies are technologies that focus on nanometric systems. A technology is based on applied science. Electronics as applied physics focuses on the transport of electrons in solids to perform complex systems. Due to the size of the electrons (elementary particle), electronic systems have been able to experience a reduction in size towards the nanometric scale (Moore's law and "More than Moore"). This leads us to the creation of a new discipline called nanoelectronics, which is a subspecialization of nanotechnology since nanoelectronics is a specific field of nanotechnology. Thus, nanoelectronics is a very different nanotechnology from nanotechnology derived from chemistry (eg. nanoparticles), biology (eg. nanocell), biophysics (eg. nanopores), etc.
The proposed Master's degree focuses on nanometric electronic devices and their entire macroscopic environment for application in modern technology. This means that, to distinguish the very specific content of the use of nanotechnologies in electronic components, the international consensus decided to call this discipline Nanoelectronics. Most countries that offer this program specifically award the nanoeletronics degree.
Applicant's Profile
The profile for admission to the program requires that the applicants to the master's program have recent knowledge and experience (academic and/or professional) in areas of Physics, Electronics, or related technologies. Therefore, they must already have theory and models, concepts, principles, foundations, and basic notions of physics, applied mathematics, programming, and/or electronics. Likewise, they must have problem solving skills and practical exercises/projects, critical thinking, be familiar with the development, application, and evaluation of real projects, use of laboratories or technological spaces, autonomous and team work, and communication with foreign languages. It is important that applicants have respectful and responsible attitudes towards their work and that of others, care for the integrity of the infrastructure and environment, respect rights, obligations, and regulations.
Likewise, they must have the desire to train in high technology fields, the elemental base of the world of research and industry (eg, telephone services, sensors, computer systems, networks, energy, robotics, bioengineering, medical devices, aerospace, LHC).
In the socio-cultural aspect, applicants must have the necessary openness to adapt and operate in a diverse environment (cultures, ethnic groups and origins, gender), be willing to travel abroad (France or Italy), stay the required time (one year), and accept the opportunities offered to them.
Professional field
Academic career: expert in electronics and solid state physics applied to semiconductors.
Engineering career: designer or expert in conception, characterization, and physical modeling of integrated circuits of nanometric devices (MOSFET, ReRAM, etc.).
Career in the area of ​​research and development of state-of-the-art technologies in multinational company in the micro and nanoelectronics industry (eg. INTEL, Infineon, NXP, STmicro, Airbus, Alstom, EADS, etc.).
May aspire to doctoral programs (such as Ph.D.) in Science and Technology.
Advantages
Nationally and internationally recognized master's degree.
Pedagogical team: Ph.D. professors experts in their field.
Research in: Design and implementation of integrated circuits (logic and telecom), design and manufacture of nanoelectronic devices.
International double degree
Two years of on-site study: First year, USFQ; Second year, of choice: Polytechnic Institute of Toulouse, France, or University of Calabria, Italy.
Trilingual training: Spanish, English, and French or Italian.
Direct integration into the professional field with remuneration in: Laboratories: IMEC (Belgium), CERN (Switzerland), LAAS, LAPLACE, IM2NP; Companies: Airbus, STMicroelectronics, Thales, Alstom, EADS, Dassault. Liebherr, etc.
Ability to immediately begin a Ph.D. program
Requirements
Basic requirements:
Bachelor's degree registered in the SENESCYT in the fields of Electrical, Electronic, Materials, or Systems, or a Degree in Physics or similar. In the case of Bachelor's degrees obtained abroad, they must be apostilled or legalized by Consular means. The University will verify that the degree corresponds to the third level, in accordance with the current Academic Regime Regulations.

Sufficient command of the English language to read, understand, analyze, synthesize, and evaluate articles in that language. CEFR level A2 as a minimum.

Copy of the identity card or passport.

Degree certificate with grade average.

Official transcript with grades.

A printed copy of degree registration at SENESCYT.

Pass the USFQ postgraduate admission exam. To do this, refer to the USFQ Postgraduate admissions process: http://www.usfq.edu.ec/admisiones/admisiones_posgrado

Specific requirements:
Interview with the Program Director.
Assessment of specific knowledge in the following fields: Mathematics, Programming, Physics, and Electronics.
Curriculum vitae.
Funding and scholarships
The cost of the first year of the USFQ program is $10,000.
The following methods of payment are available:
Payment: Cash, Check, Credit Card.
10% discount for USFQ Alumni.
Credit card payment: Deferred at 3, 6, 9 months without interest with Grupo Pichincha and Grupo Guayaquil cards; 12 months without interest only if the value of the entire program is paid.
About forms of payment by credit card:
http://www.usfq.edu.ec/programas_academicos/posgrado/Paginas/aranceles.aspx
50/50 Payment: Pay  5,000 at the start of the program and the remaining $5,000 must be paid halfway through the program.
Monthly payment plans: In case the applicant does not have credit cards, checks are accepted as a means of monthly payments. For more information, go to the Financial Assistance offices. For more information about Financial Assistance:
http://www.usfq.edu.ec/programas_academicos/posgrado/Paginas/asistenciafinanciera.aspx
Second year - UNICAL O INPT universities
The value of the second year depends on the University you choose, the application to these universities is made during the first year at USFQ:
France: Institut National Polytechnique de Toulouse (INP Toulouse) the cost is €5,000*. Payment, enrollment fee, and tuition must be made in this country.
Italy: University of Calabria (UNICAL) the cost is €486.51*. Payment, enrollment fee, and tuition must be made in this country.
*Current amounts as of 2019.
Take into account that from the last semester, either of the two countries will already be financially remunerated in an industry or laboratory in which you start working.
Scholarships:
According to the Scholarship Regulations of the Graduate program, scholarships will be awarded to those who demonstrate academic excellence and scientific research. For this, they may send their list of scientific publications in Scopus or Latin Index to participate in the contest.
The winner of the contest will be creditor to:
First year USFQ: 100% tuition scholarship.
Second year UNICAL: Airline ticket (round trip) and tuition payment.
In the second year:
In Italy, students will have a scholarship that offers accommodation and food for one year.
In France, students will have access to the Eiffel Excellence scholarship.
Testimonials
"The Master's in Nanoelectronics from USFQ allowed me to work with high-tech equipment and study under the tutelage of renowned national and foreign professional researchers. It is definitely a unique experience in Ecuador for those of us who want to dedicate ourselves to research and the development of science and technology."
- Sofía Lara. Master`s Degree in Nanoelectronics. Winner of the CERN Scholarship (SENESCYT) al the National Level -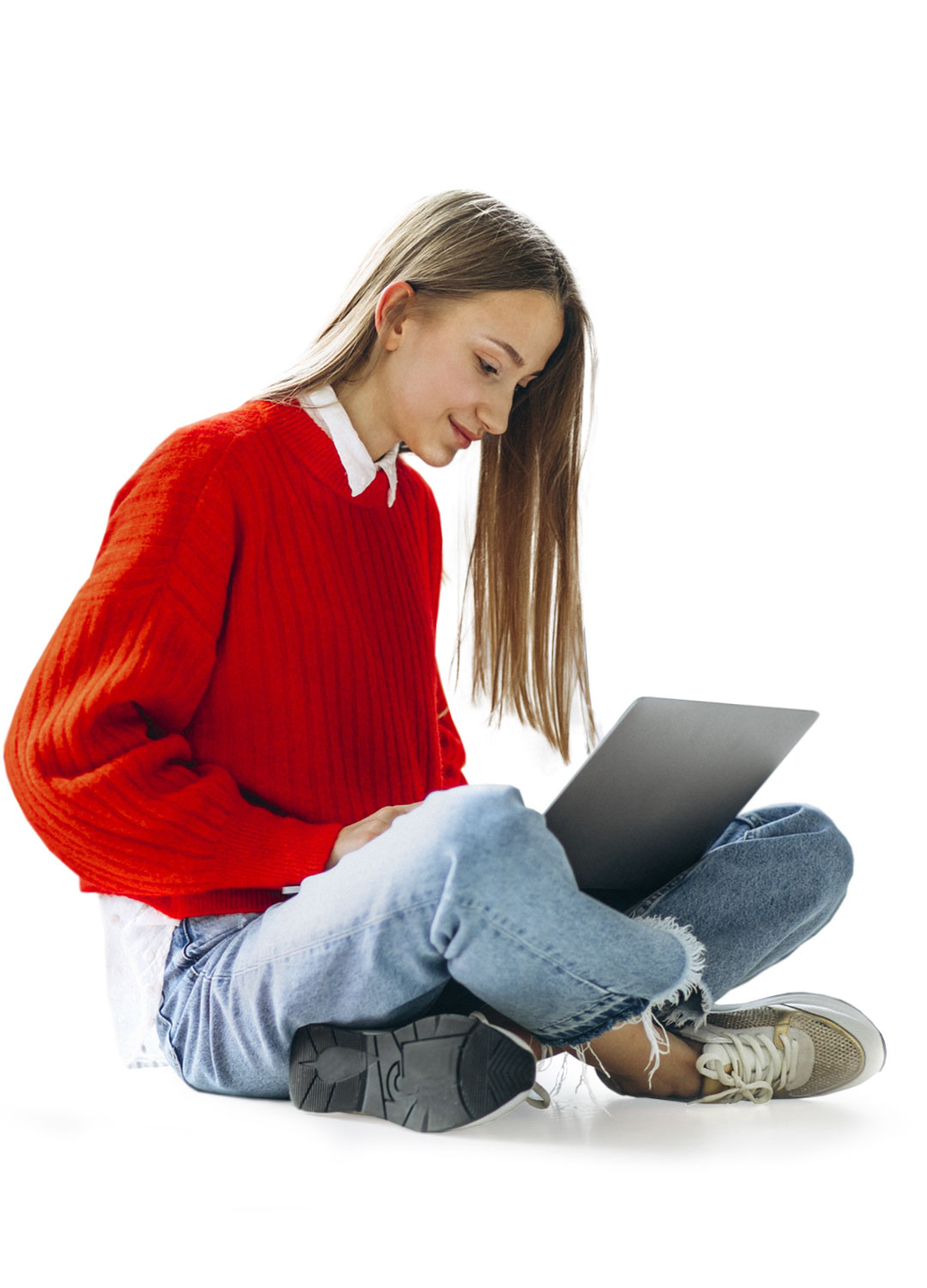 Contact
Director Admissions Counselor