General Information
The San Francisco de Quito University has a community of more than 10,000 people who mobilize daily to and from the USFQ. On this page you will find resources and information to make your mobility easier.
Transportation Options
PANCHOBUS
In order to encourage the decrease of vehicle use within our community, the USFQ offers several free and exclusive transportation routes. The only requirement to use these routes is the presentation of the USFQ card. Consult our routes and stops in the following link
DRAGONPOOL
DragonPool is a student initiative that helps connect USFQ community members through WhatsApp groups to facilitate their daily transportation. For more information, please visit: http://bit.ly/2KDSpFM
​TAXI
You can find a taxi stand on the Paseo San Francisco.
TRANPORTE PÚBLICO
There are several bus stops around the USFQ.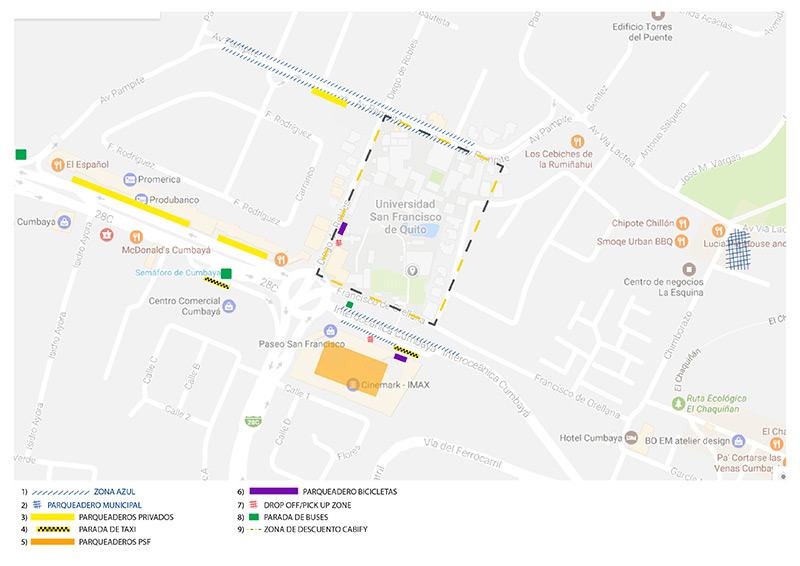 Frequently Asked Questions
Are the Panchobus routes the same every semester?
No, it is possible that the routes change every semester to improve the service.
Who can I contact for more information about Panchobus?
Contact via email Jairo Carvajal (jcarvajal@usfq.edu.ec)
Is DragonPool a service of the USFQ?
No, DragonPool is a student initiative created by one of our dragons.
How do I get the OnTrack application?
The application is available for IPhone and Android in the App Store and Google Play.
How do I create my account in the app?
Download the application to your mobile device.
Register your data with Jairo Carvajal (Office PF104 next to the quadrants).
You will receive an email from OnTrack with a link to create your account.
Use your institutional account and password (@estud.usfq.edu.ec).
What services does the application offer?
You can create alerts to know when Pancho Bus is near, monitor the route in real time and receive notifications from the administrator.