Program Description
 Students select courses from one of four Academic Tracks in the biological and social sciences: (1) Evolution, Ecology and Conservation, (2) Marine Ecology; (3) People, Politics and the Environment and (4) Sustainable Tourism. Each academic track consists of five intensive 3-credit courses taught in 3-week modules.
The first module takes place at USFQ's main campus in Cumbayá valley, located just outside of Quito, followed by three modules that will take place in San Cristobal Island, Galápagos and then come back to the mainland where they will have an excursion to Tiputini research station in the Amazon Basin.
All courses are taught in English. Please note courses are subject to change. Students can take up to two courses from different tracks, assuming they meet any necessary prerequisites and spaces are available (see Academic Tracks). Students in all tracks also take a required Spanish conversation class (1 credit). Volunteer placements (non-credit) in San Cristobal are also available to interested students.
Dates:
Fall: August to December
Spring: January to May
Program Highlights:
Personalized, small classroom settings
State of the art teaching, research and laboratory facilities
Hands-on classes and field trips
Visits to the Tiputini Biodiversity Station, Ecuadorian highlands, a cloud forest.
Free Spanish lessons
Experiencing Ecuadorian culture and the opportunity to live in one of the most unique and amazing places on earth, the Galapagos Islands.
Cruise and tour of the Galapagos Islands
Ph.D. trained professors with vast teaching, research and field experience​
Academic Tracks*
We also offer an optional, one-credit Intermediate-level Spanish course which takes place in the Galapagos. This optional course carries an additional fee and its opening is contingent on having a minimum of 8 students signed up for it.
Evolution, Ecology and Conservation
Students in the Evolution, Ecology and Conservation program will examine and study: (1) the ways in which Ecuador´s diverse ecosystems shape evolutionary processes, (2) the manner in which these processes lead to adaptive radiation, specification, endemism, and biological diversity, and (3) the role that distinct social, cultural and economic conditions have played in the protection or transformation of these unique environments.
Course options:
---
Marine Ecology
The Marine Ecology track combines course and field work which addresses the importance of marine conservation and the social aspects of marine management. Through their studies on the Ecuadorian Pacific Coast and the Galapagos Archipelago Islands, students will experience and study a variety of ecosystems, including the subtropical ecosystems of the Humboldt Current and tropical ecosystems of the northern Ecuadorian coast.
Course options:
---
People, Politics and the Environment
The People, Politics and Environment track explores the various economic, cultural and social issues that affect relationships between humans and their environment. Program participants will study ways in which societies adapt to diverse ecosystems on local and global levels. They will examine the economic, political, and societal transformations resulting from the tourism, fisheries, and agriculture industries, as well as from conservation efforts.
Course options:
---
Sustainable Tourism Track (offered in the Fall Semester only)
The sustainable tourism track addresses the importance of sustainability and the impact on the economy, the environment and society, as well as the global community. According to the UNWTO, in Galápagos, tourism demand reached 1 235 million international tourists, and tourism spending reached 1.5 trillion dollars during 2016. The arrival of tourists should benefit the natural environment and the communities, both economically and culturally. Students of this multidisciplinary track will examine the components of the tourism industry and their interrelationships for a successful and responsible planning and management. The courses in this track are taught by University of South Carolina and Universidad San Francisco de Quito faculty.
Course options:
---
*Students can combine classes from different tracks, assuming they meet any necessary prerequisites and spaces are available. Course choices for modules 1 and 2 CANNOT be changed once selected prior to arrival. Any course must have a minimum enrollment of 8 students or it will be cancelled. Please note if a student from the Evolution or Politics track wishes to participate in a Marine Ecology course, an additional materials fee applies. Please note courses are subject to change.
Service Learning in Galapagos
In addition to the courses offered in the Galapagos Semester Program, students have the option of participating in service learning projects. Students can select one of USFQ's partner NGOs or community development agencies to do service learning.
The objective is to acquire knowledge about both the positive and negative impacts of human settlement, fisheries, and tourism in the Galápagos while contributing through service to maintain this unique environment. Students are exposed to challenges the Galapagos Islands face, and are given an opportunity to work everyday side by side with local Ecuadorians to make a positive impact in the community.
Students who participate in learning service projects will also take the 3 credit course: Organization, Development, Environment volunteer.
There are Service Learning Opportunities in the following areas:
Conservation
Pest Control
Reforestation
Sustainable Agriculture
Waste Management
Introduced Species Control
Health Care
Provide support in Day Care Centers, Elementary or High Schools
Teach English to the Community
Housing
Students stay with carefully screened host families in Cumbayá (Quito) for the first module and with host families in San Cristobal Island for the remainder of the semester. During overnight excursions students stay in hostels or hotels.
Excursions
Depending on the program track, during the first module students visit USFQ's Tiputini Biodiversity Station in the Amazon Basin, the Ecuadorian highlands, and a Cloud forest. In the Galápagos, students will experience hands-on classes where they will visit some of the most amazing places in the islands as part of their coursework.
Costs:
The comprehensive program fee includes tuition, on-site orientation and Quito city tour, academic excursions, housing and most meals, and round-trip airfare between Quito-Galápagos. Tuition is additional for non-exchange students (check with your home institution if you are uncertain of your status).
Please contact our Office of International Programs for current fee information: opi@usfq.edu.ec
Application Form
Please read our program requirements below and click here
Application Deadlines:
Fall Semester: June 1
Spring Semester: October 25
Eligibility Requirements
Students must have:
Minimum sophomore standing
Minimum 2.8 GPA
English proficiency (an international applicant for whom English is a second language MUST provide documentation of proficiency in English)
At least one general biology or one ecology course at the college level
Marine track students will require DAN insurance for academic dives (included in program price)
Students must have the yellow fever vaccine regardless of the track they choose
Transcripts
All international students studying at USFQ will have a transcript sent to their home university upon conclusion of their term at USFQ (at no additional charge). However, if students would like more than one copy or need to order additional copies at a later date, there is a fee of $15 for each transcript and $35 for international shipping. The information for the payment is below. At the time of payment please email to opi@usfq.edu.ec to inform us that you are sending the check and how many transcripts you are paying for. We also need the physical mailing address(es) to where the transcript should be sent (no P.O. boxes), as well as a contact phone number.
Beneficiary Name: USFQ OPI
Beneficiary Account Number: 1645005041
Street Address of Beneficiary: Diego de Robles S/N y Pampite, Campus USFQ
City, State, Country: Quito ECUADOR
Beneficiary Bank Name/Beneficiary: BANCO BOLIVARIANO
Bank ABA Number: N/A
SWIFT Code: BBOLECEG
Beneficiary Bank Address: Av. Naciones Unidas E699 y Shyris
City, State, Country: ECUADOR
Along with the check to the bank, please enclose a short letter with the account data and mention the name of the person who it is for. If the bank does not receive something indicating the purpose of the deposit, it will be very difficult for us to identify the deposit and properly credit your account with the USFQ Treasury Office. Once payment is received we will issue the transcript and mail it to the address indicated in the email request.
About Galápagos
Studying and living in San Cristobal
The campus of Universidad San Francisco de Quito in Galapagos (which includes the local programs, GAIAS, and the GSC) is located in the island of San Cristobal, the capital of the Galapagos, in the city of Puerto Baquerizo Moreno, which has a population of approximately 6,000 people, most of whom make their living principally of artisanal (small scale) fishing and tourism. In San Cristobal, water temperature averages 22-23 Cª / 71-73 Fº, although it can range from 19Cº - 26 Cº / 66Fº - 78 Fº. Other islands (such as Española) have lower water temperatures depending on the time of year.
On San Cristobal, students are surrounded by some of the most unique wildlife species on the planet. On this island alone, they will have the opportunity to observe Chatham Mockingbirds, Blue Footed Boobies, Masked Boobies, Frigate birds, Pintail Ducks, Gallinules, Pelicans, Giant Tortoises, Sea Tortoises, Crabs, Sea Lions, and various other sea and land birds, including some species of the famous Darwin finches.
---
The Galapagos Islands

The Galapagos Islands is an archipelago of volcanic origin located along the equator in the Pacific Ocean, approximately 1000 km (600 miles) off the west coast of Ecuador. It has a population of around 30,000 people and constitutes one of Ecuador's 25 provinces.
The Islands´ fame is attributed to its vast number and variety of endemic species, as well as to Charles Darwin´s visit to the Islands during the Voyage of the Beagle in 1835. It was this visit to the Galapagos Islands that inspired his theory of evolution by natural selection. The archipelago consists of 13 main islands, 6 smaller islands, and 107 rocks and islets. They are located on top of the Galapagos hotspot.
Ninety-seven percent of the Galapagos Islands' land surface is a National Park and has been named a World Heritage Site by UNESCO. In addition to the National Park, the Galapagos Marine Reserve, also declared a UNESCO World Heritage Site in 2001, covers 133,000 square kilometers and has been described as one of the most attractive diving destination in the world.
The climate of the Galapagos is influenced by a rich combination of both cool and warm oceanic currents, particularly the Humboldt Current, which brings cool water to the Islands from the south, and the Panama Current, which brings warm water to the archipelago from the northeast.
The climate of the Galapagos can be divided into two main "seasons": the "hot and rainy" season which lasts from December through May, with an average temperature of 25 Cº / 77 Fº, and an average precipitation of 1950 mm. / 748 in. of rain per month. February, March and April are normally the rainiest months of the year. The "cool and dry" season goes from June through November with an average temperature of 18 Cº/ 64 Fº, where the Galapagos receives an average of 315 mm. / 124 in. of rain per month. August, September and October count as the driest and windiest months of the year.
---
Beautiful landscapes in San Cristobal
Playa Mann: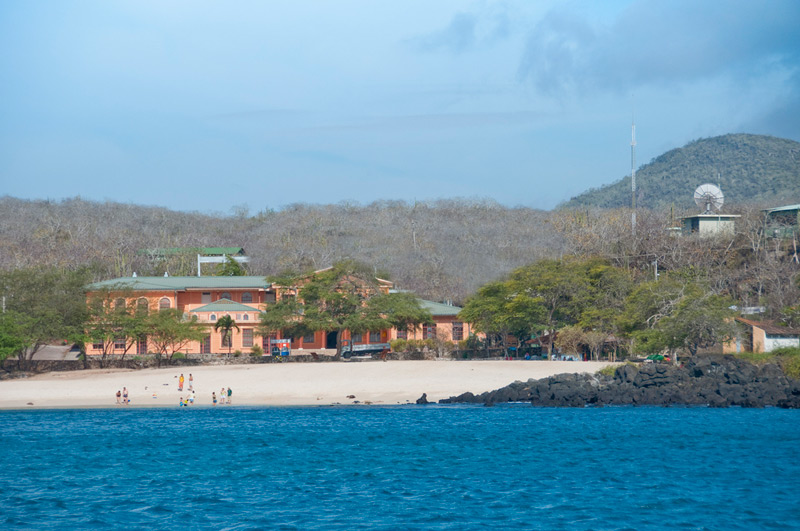 A wonderful beach located just across the street from the campus of USFQ. This is a great spot for swimming, surfing and snorkeling with dozens of fish species and sea lions.
Cerro Tijeretas: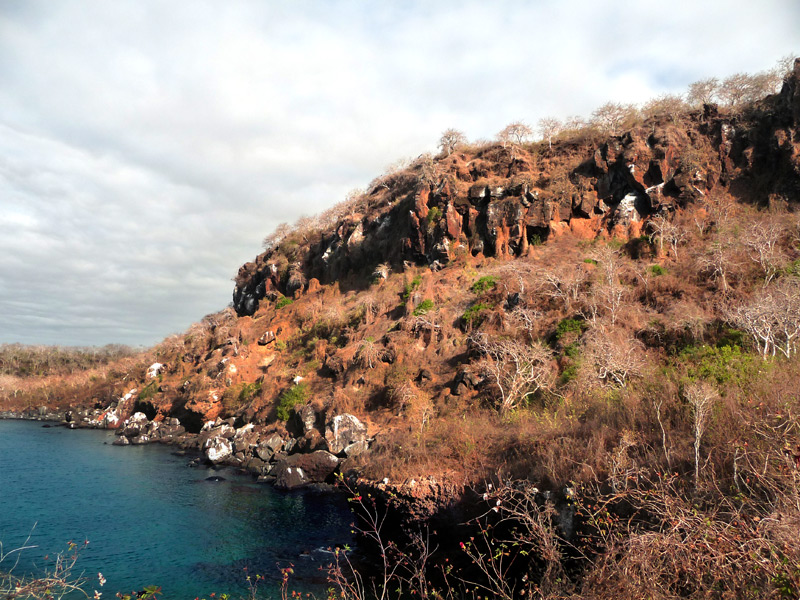 This "cerro" or cliff is located northwest of Puerto Baquerizo Moreno, is the first spot where Charles Darwin disembarked in 1835 when he arrived to the Galapagos. Named after the shape of the tale of Frigate birds nesting in its cliffs (shaped as scissors, or tijeras in Spanish) this hill plunges into the sea in an enclosed cove that has become a very popular snorkeling destination.
Punta Carola: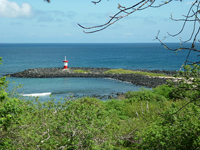 Located within walking distance from the USFQ-Galapagos campus (less than 10 minutes) this remarkable white sand beach is where you can experience marine iguanas wandering freely and crystalline water breaking against the rocks. It is also known as a good surfing spot.
El Progreso: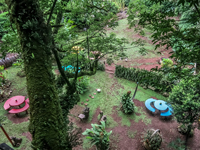 This farming settlement is located a few kilometers up the side of an extinct volcano. It was founded in 1879 by Manuel J. Cobos, a visionary from Guayaquil who established important sugar cane and coffee plantations in the area.
La Loberia: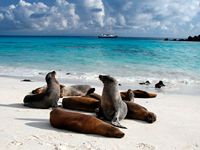 This white sand beach is only a 30-minute walk south of town. At La Loberia you will enjoy sea lions, its large colony of marine iguanas, bird watching, and marine turtles. Depending on the time of the year, you can catch some of the best surfing waves in South America.
La Galapaguera: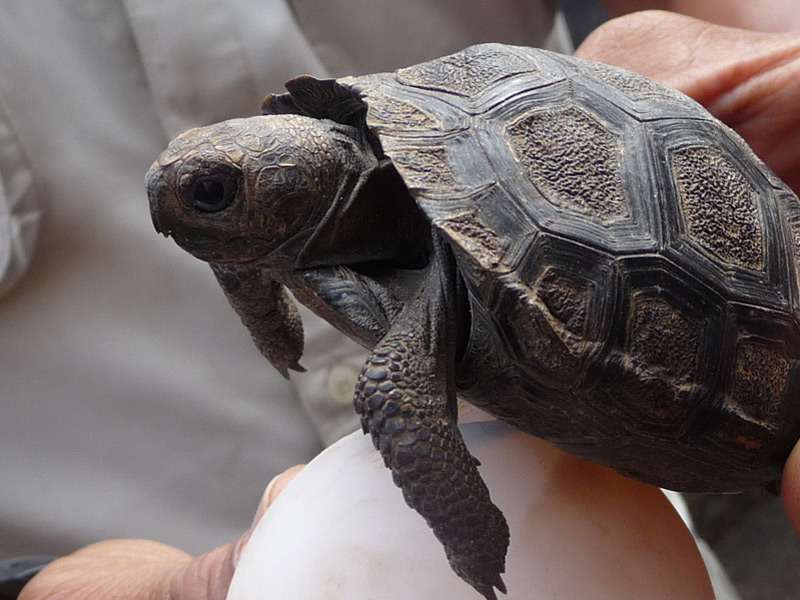 Built by the Galapagos National Park in 2002, the Galapaguera is a man-made breeding program for tortoises. Here, you will get to see giant Galapagos living in a semi-natural habitat and learn about their origin, evolution, and threats to their survival.
Leon Dormido or Kicker Rock: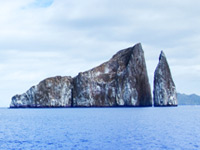 Its Spanish name is derived from its characteristic shape of a sleeping lion. Leon Dormido is located off the northwest coast of San Cristobal. It is a vertical tuff cone, rising almost 500 feet straight up from the ocean. Erosion has split the rock into two parts, forming a narrow channel where visitors snorkel and swim. Blue-Footed Boobies, Masked Boobies, Frigate birds and sea lions line the shore. This is an excellent location for snorkeling and diving, as you can often spot manta rays, sea turtles and several species of sharks.
Puerto Grande: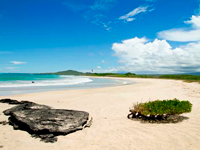 Hermit crabs are very common in the cove of Puerto Grande, covering the areas near the lagoons located behind the beach. The cove is also one of the main sites where blue- footed boobies feed. For many centuries Puerto Grande was also one of the most popular sites to anchor sailboats, adding to the legends of pirates, buried treasures and adventured treasure-hunters around the island.
Cerro Brujo: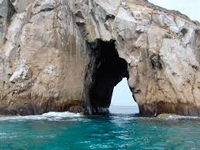 The remains of a tuff cone that boasts an impressive landscape, where it is also possible to see coastal and migratory birds. The primary attraction of this site is the coral sand beach, but it is also an excellent place to go swimming and snorkeling. Darwin has immortalized it in one of his sketches of the islands.
Isla Lobos: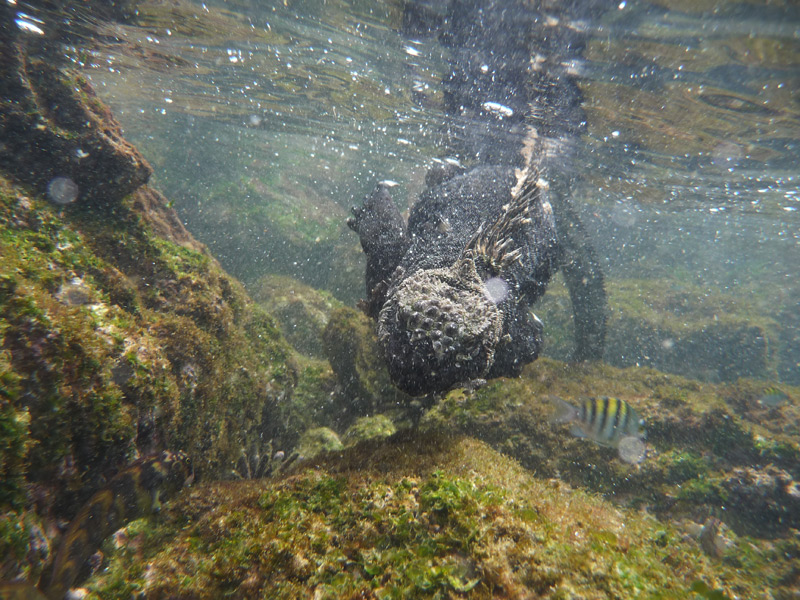 This islet is located one hour from San Cristobal by boat. It is a seasonal nesting ground for Blue-Footed Boobies. The islet's environment is also a great place for snorkeling with playful sea lion cubs.
Playa Ochoa: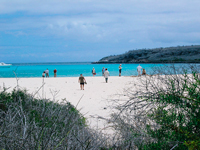 Playa Ochoa is a great place to rest after a visit to Isla Lobos, and a remarkable place for snorkeling. Playa Ochoa is a small rocky beach, with white sand and calm waters. Migratory and coastal birds can be observed in the nearby lagoon, as well as various species of mangrove trees,, many species of shore birds and two species of crabs inhabit this beach.
Punta Pitt: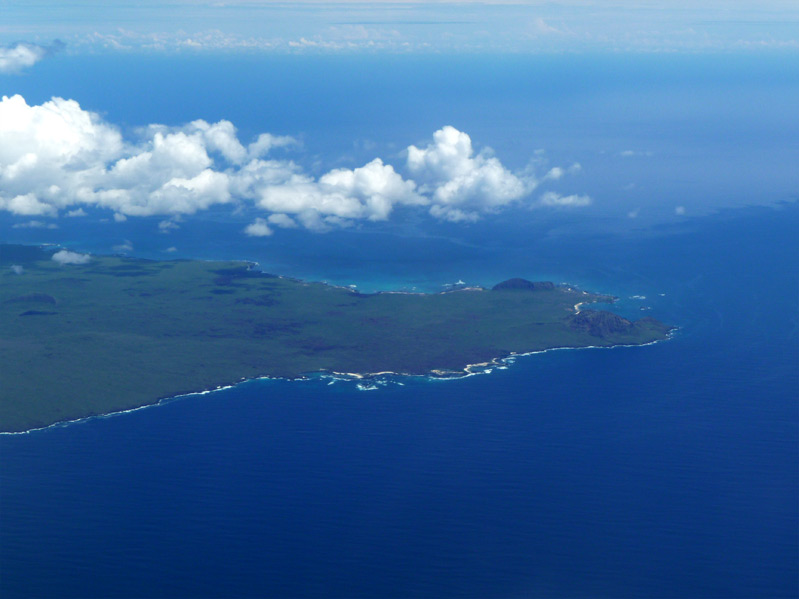 Situated on the northeastern tip of San Cristobal, visitors can enjoy watching a variety of birds, particularly all three species of boobies: red-footed, blue-footed and masked. Two species of frigate birds can also be observed here, as are swallow-tailed gulls and storm petrels. In addition, Punta Pitt is the only spot of San Cristobal where you watch tortoises in their natural setting.
El Junco: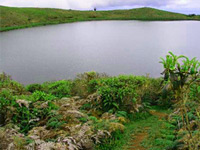 El Junco is the only permanent fresh water lake in the Galapagos. It is located in the highlands, at an altitude of about 700 m / 2300 ft above sea level. This lake is located about 45 minutes from Puerto Baquerizo Moreno by bus. Junco is Spanish for sedge, which is present along the banks of the lake. The lagoon has a surface area of 648,000 square feet and a volume equivalent of nine million gallons of water. It is an ideal spot for bird watching, as well as enjoying the landscape. El Junco is one of the few places where you can see frigate birds bathing to preen their feathers.
Frequently Asked Questions:
How many dives are included in the various Marine Ecology track courses?
There is one academic dive, which includes two immersions at the same site during each of these courses: TMR1, Marine Life, Marine Ecology and Marine Ecosystem Based Management. In TMR2, there are two academic dives (one dive at two different sites), including two immersions per site (four immersions in total).

What equipment would be provided to students for the Marine Ecology track dives/snorkeling activities?
For the academic dives, the agencies that we work with provide all of the gear, including the wetsuit. During the fall and spring semesters, they provide 7mm and 5mm wetsuits, respectively.
For the academic snorkeling activities, they provide everything except a wetsuit, which can be rented at an additional cost of around $20 per day. You will probably be doing additional snorkeling activities for your independent research projects of the various courses, so it is recommended that before coming to Ecuador you get your own mask, snorkel and fins (full foot or open heel with booties).

Do you recommend a wetsuit for snorkeling? Long or short?
Wearing a wetsuit for snorkeling activities depends on how cold you get. If you usually get cold, we recommend getting a 3-5 mm full-length wetsuit for the Fall and a 3-5mm short wetsuit for the Spring.

What kinds of temperatures should we be prepared for at the depths we'll be diving at?
The seawater temperatures in the Galápagos are colder than expected for being in a tropical location. During the Fall you can expect to be snorkeling/diving between 14 – 21 degrees Celsius and during the Spring between 18 – 28 degrees Celsius.

Do you recommend dive gloves?
If you're used to dive with gloves yes, bring them with you. Diving agencies usually do not provide dive gloves.

Should I have full foot fins or open heel with booties?
It depends entirely on your preferences. If you prefer to use full foot fins, we recommend to get neoprene socks as well.

Do you recommend having a wetsuit hood or not?
If you're used to dive with a hood yes, bring it with you. Diving agencies usually do not provide a wetsuit hood.
Contact us
If you need more​ information regarding our international semester programs, please contact us:
Oficina de Coordinación en Quito / Support Office in Quito
Universidad San Francisco de Quito
Oficina USFQ Galápagos, Campus Cumbayá
Diego de Robles y Vía Interoceánica
P.O. Box 17-1200-841
Quito, Ecuador
Tel: +593 2 297-1845
E-mail:opi@usfq.edu.ec