General Info
Universidad San Francisco de Quito (USFQ) has over a decade of experience designing and delivering customized programs of any length of time and academic focus throughout the year. Our programs typically range from one to eight weeks in duration and are tailor-made to meet the academic goals and expectations of our partners. Past academic themes and topics include, but are not limited to:
Spanish Language Learning & Ecuadorean Culture,
Ecology & Conservation,
Marine Biology,
Evolutionary Psychology,
Gender & Postcolonial Studies,
Topics in Global Health,
Food Security & Agriculture,
Entrepreneurship, Business & Sustainable Tourism
The academic contents of a program can be offered fully by USFQ professors if desired or partly, through co-teaching options, Spanish language classes, and/or lectures on desired topics. USFQ can provide the academic credit for the course by providing transcripts if desired as well.
Excursions
Our programs are very flexible and may incorporate a large variety of Ecuador's diverse ecosystems, including the Amazon Jungle, the Galápagos Islands, the Coast, and the Ecuadorean Andes. As part of various academic excursions, past programs have visited the following locations:
USFQ Galápagos Extension Campus & the Galápagos Science Center (GCS),
USFQ's Tiputini Biodiversity Station (TBS) in the Amazon jungle,
Quito's Historic Center & the Middle of the World,
Mindo & the Cloud Forrest area,
Otavalo, Cotacachi, and Cuicocha Lake,
Cayambe Coca Ecological Reserve, Cotopaxi & Chimborazo National Parks (Andean Paramo)
In addition, USFQ can organize company visits, internships with a variety of organizations, service-learning and volunteer projects, cooking classes with USFQ's Culinary Arts School, and other activities of specialized interest. Programs interested in being further immersed in Ecuadorean culture can opt for staying with host families in both Quito & the Galápagos Islands.
Process for developing a Customized Program
Flow Chart of Process for Developing a Customized Program with USFQ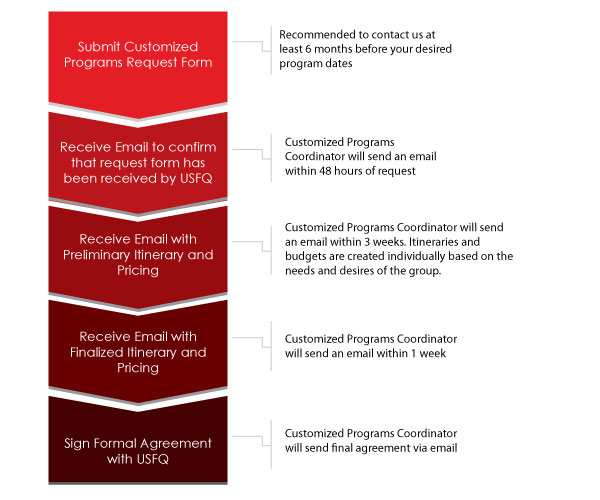 If you are interested in receiving a quote for a customized program in Ecuador, please complete our Customized Programs Request Form.
Risk Management
USFQ is extremely concerned with the health and safety of all students and staff that participate in our customized programs. Accordingly we have prepared the following emergency & response protocols for:
If you have any particular questions regarding our risk management strategy for a particular program, please do not hesitate in contacting us.
Additionally, we would like to share the following Rules & Regulations regarding participant conduct in our different campuses & research stations:
Contact Us
Please do not hesitate to contact us regarding the development of a customized program with USFQ. We would love to work with you to develop a program that suits your needs and are very excited about the possibility of hosting you in the future!
Oficina de Programas Internacionales (OPI)
Universidad San Francisco de Quito
Campus Cumbayá
Diego de Robles y Vía Interoceánica
P.O. Box 17-1200-841
Quito, Ecuador
Tel: +593 2 297-1700 - ext. 1540
E-mail:opi@usfq.edu.ec
---
"Too long to enumerate all points, but for me, having students say, "Best day of my life" is always great, and that happens a lot in USFQ."
- Professor from University of North Carolina at Chapel Hill
"The program was wonderful, the students and I fell in love with the USFQ campus and with Ecuador. It is key to study Spanish, the history and culture of a Spanish speaking country, like Ecuador, while living in the country and being immersed in the culture and surrounded by the great people that speak it"
- Professor from Georgetown University