Marketing
Degree
Bachelor of Arts in Marketing
Teaching Mode
Face to Face Learning
CES Initial Approval Resolution
RPC-SO-22-No.357-2016
CES Updated Approval Resolution
RPC-SO-05-No.098-2020
Description
Marketing is the business branch that studies the planning and implementation of strategies focused on offering valuable products and services that satisfy the needs and desires of customers.
USFQ Marketing students will learn the importance of properly defining a target market, the need to innovate in the development of products and services, and how fundamental it is to understand consumer behavior when making purchasing decisions.
Likewise, during each semester, while acquiring knowledge in various fields of business, Marketing students will develop leadership skills, teamwork, and creativity. This demanding and dedicated preparation gives USFQ graduates the tools and knowledge necessary to successfully develop in any company in the world.
Advantages
The Marketing program has been designed taking into account global business trends and the fields of interest that have developed around the Marketing discipline. The courses offered always take into account the philosophy of teaching based on USFQ's Liberal Arts approach.
The Marketing major courses have a theoretical and practical training focus. These business classes allow students to get close to the problems in the industry and apply their creativity and knowledge to develop real application strategies.
The professors in the Marketing program have extensive experience in different industries, both nationally and internationally. All of them have excellent academic training (Ph.D, MBA), thus having fourth-level degrees from prestigious universities.
The professors in the Marketing program are multidisciplinary, so in addition to dedicating themselves to teaching, they are great researchers. Many of their publications have had a great impact on media related to their area of interest.
A large percentage of Marketing students take advantage of the student exchange programs and study at the best business universities in the world.
The NeuroLAB USFQ, Neuromarketing Laboratory, is an innovative scientific research tool where consumer behavior experiments can be carried out in order to develop efficient strategies for different business areas. We have state-of-the-art equipment specialized in the measurement of eye movement, galvanic response, and facial gestures, which manage to determine with great precision the intensity of external stimuli and their influence on the process of customer purchasing behavior.
The Academic Marketing Club seeks the creation of a network of business students who develop their teamwork skills, proactivity, and commitment through the planning and execution of events, talks and activities that promote the importance of Marketing, both in the professional and personal fields. The activities carried out by the Club have the participation of large local and international brands.
Professional Profile
USFQ Marketing graduates have a solid conceptual and practical preparation in the reality of marketing and are able to apply this knowledge in both national and international contexts. They will be able to found and direct their own company or successfully perform in positions of responsibility in the commercial area, in public or private, industrial, commercial or service companies, and non-profit organizations. The Marketing graduate is able to understand the operation of both the economic environment and companies and markets. They are prepared to critically analyze the information necessary to make optimal business decisions under conditions of uncertainty, set objectives, establish plans, and evaluate the results obtained.
Professional Profile
USFQ's Marketing graduates can demonstrate their extensive specialized knowledge in Marketing and business. Additionally, they have extensive training based on Liberal Arts that characterizes USFQ. Our graduates successfully work in product and service companies, in the industrial and commercial sector, in positions such as assistants to Regional Marketing Managers, Brand Managers, Product/Service Line Managers, Assistant Marketing Managers, Sales Executives, and New Product Development Managers.
Testimonials
Testimonials from Our Graduates:
"My time at the University allowed me to train and learn beyond the academic. USFQ trains free individuals, capable of innovating and giving additional value to the companies where they are developed, contributing positively to the transformation of a better society.
The Marketing program has allowed me to have a different perspective of all the opportunities that arise in the professional field. The program trains you to be a leader in the area and to be able to make strategic and innovative decisions that give an added value to the company where you work.
There are several benefits that this program offers you; beyond the professorship, there is a team of professionals who take on a role not only as your mentors, but as your friends and colleagues and place a lot of emphasis on practice and experience throughout your career with multidisciplinary competitions, case studies, experiments, and simulations. Over the years in college and even after I received my degree, this program has allowed me to create a network of important personal contacts. Finally, in the workplace, it allowed me to easily get a job as a recent graduate and to grow rapidly within the company where I currently work."
- Michelle Muñoz, Commercial Manager - Top Quality Flowers -
"Without a doubt, Marketing is an exciting, challenging and dynamic career that allows different businesses to stand out, through strategies and the development of innovative activities. Studying Marketing was a wise decision, because working to transform a brand and differentiate it into a competitive market, always represents an exit from the comfort zone and a continuous involvement with the target I am addressing. In addition, it is a very complete career that encompasses research, analysis, creativity, and strategy. Among the most important competencies of this exciting career I can highlight the holistic vision with perspectives that always seek to enhance the competitive advantages of a company, the capacity for conflict resolution and negotiation, work under pressure, the development of personal skills considering the myriad of interactions that are generated with those who at the end of the day make up the work team, and the ability to create products or services that change people's lives. For me, Marketing every day works to enhance a brand, see it grow and highlight its essence."
- María Elisa Carrión, General Marketing Coordinator - UIDE -
"Having studied Marketing at USFQ was a very enriching experience that opened my mind to new perspectives. First, the knowledge that is acquired is very diverse since there is a variety of specialization subjects, the knowledge of the professors goes beyond your expectations and the use of real cases, together with the experiences and practices in companies makes the four years of study unmatched. What you learn in this career is not only academic but also of values, ethics, and individual training, so that they train professionals prepared for any challenge in working life."
- Lucía Naranjo, Planning Analyst - Quala S.A -
"Marketing is very people-centered. It is connecting with them and finding that something they want and seek. One of the biggest benefits of this career is that it is applicable to any industry; both a textile company and a doctor have to know how to sell their product and find a way to reach their client. It is a fairly broad career, which has several branches of specialization. And finally, it is a career that opens the doors to the world. Globalization has allowed us to be hyper-connected and a marketer has to find those global trends and opportunities that may appear. For me, marketing requires a lot of empathy and knowing how to understand people. In this area, having studied at a university with a philosophy of Liberal Arts helped me meet different people from different careers who have a completely different way of seeing the world."
- Michelle Román, Marketing and Communication Analyst - República del Cacao -
Our Professors' Comments:
"Marketing is a dynamic and demanding discipline. I love my profession!"
- Paola Valencia, MBA Academic Marketing Coordinator -
"USFQ is my home. It is the ideal place and atmosphere to develop the teaching career due to the philosophy of Liberal Arts. At USFQ we have the freedom to design, propose, and implement high impact activities for students and for society. My relationship with USFQ is over 20 years old. First as an undergraduate student then as a marketing manager for large projects. I joined the professorship part time and almost immediately became a full time professor. I carried out administrative functions that allowed me to value all the Colleges and Departments. Now I live and breathe my scientific research work. When I walk the halls of USFQ, I never stop greeting students, colleagues, and administrative staff. Receiving students and listening to their projects energizes and motivates me.There is a spirit of virtue that surrounds USFQ and everyone who visits its campus. We all feel that positive energy and it allows us to dream of a modern, organized, and free society."
- Franklin Velasco, Ph.D Marketing Professor -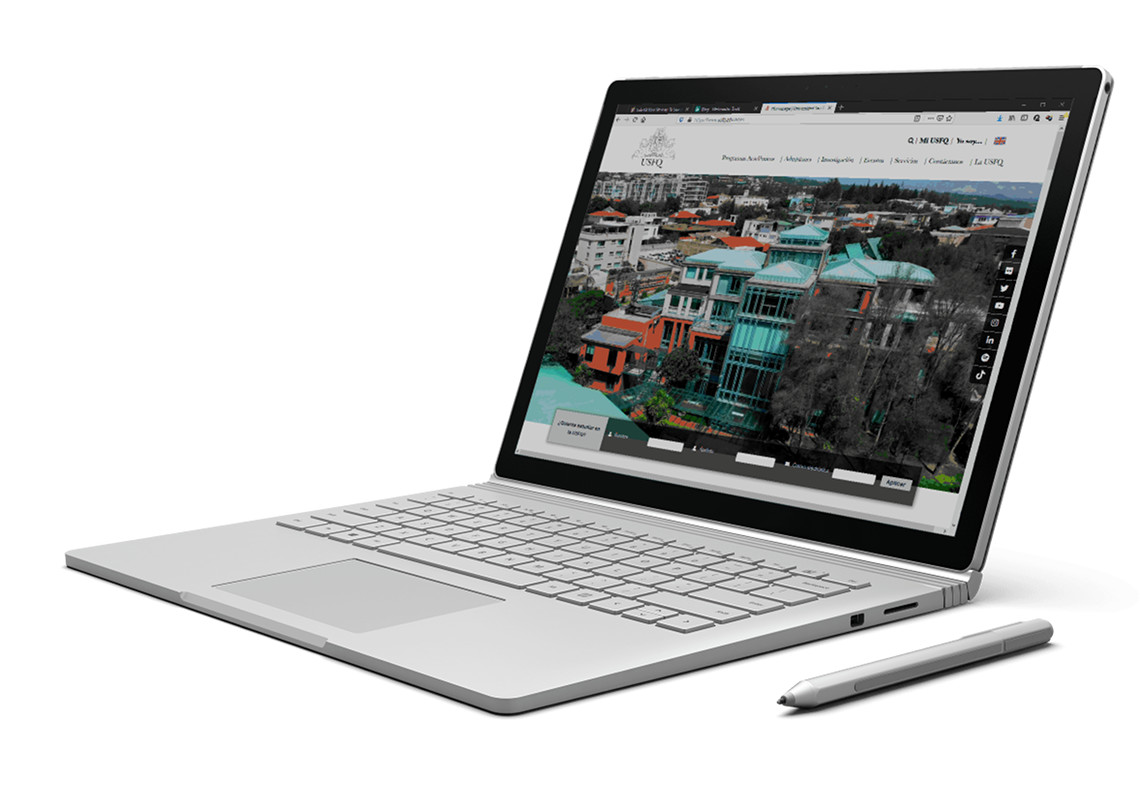 Contact
Coordinadora Administrativa y de Imagen Business School Pregrado